My Cousin And Friend
By Helen Hawes (nee Smith)
I have so many memories of Gwen but one that particularly stands out is of the week in the summer of 1974 when I stayed with Uncle Henry (my Dad's big brother), Auntie Ada, Gwen and David, in the cabin on Marshall Lake. What an amazing week - rowing, fishing and swimming in the crystal clear water, under a perfectly blue sky, climbing a mountain, and stripping the bark off logs for a new building (to house the pump?) We also did some shooting practice with a cardboard target. At the end of the week, Uncle Henry and Auntie Ada stayed on at the cabin and I returned with Gwen and David. It was the first day of the season and, while David was driving, he suddenly spotted a deer. This was too good an opportunity to miss and he didn't! Gwen provided a lovely white sheet to wrap it in and helped to squeeze it into the back of the car. As soon as we could, we stopped for some ice to pack in it and, for the rest of the journey, Gwen and I giggled about what would happen if somebody noticed the blood dripping out of the back of the car.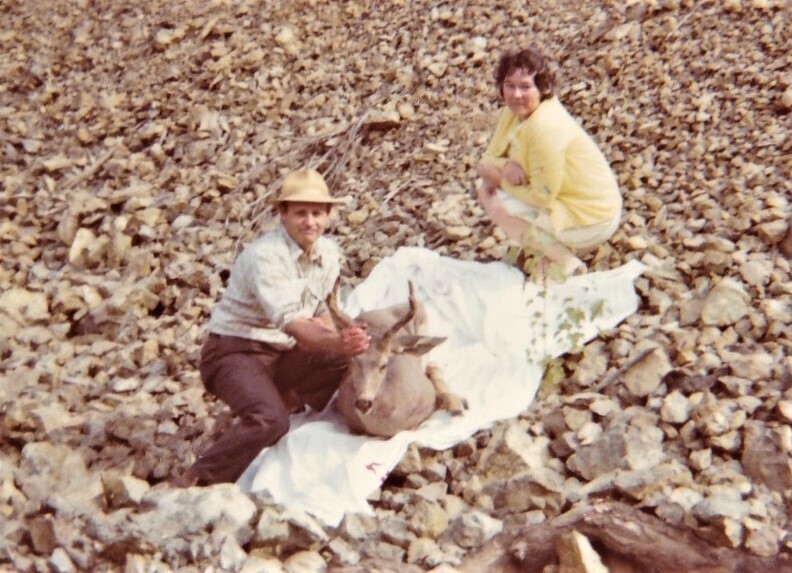 Then there was family history. Gwen started her research in the days when you couldn't just go on the internet and find information and, indeed, the start of her research predated the internet. She and David would come to England to visit particular places where family members had come from but, between visits, letters would fly back and forth between us - requests for information and subsequent reports from me. Most of the research involved trips to the Family Records Office in London to search Census records, and the huge registers of births, marriages and deaths, and order certificates if sufficient information had been found. On one of her trips to London, she came to the FRO with me and enjoyed the sense of history that you can't help but feel when handling the old ledgers. I recall that she didn't enjoy the weight of them quite so much! This research must have lasted off and on for about three decades. It was always exciting to share the results of a successful search and, if it wasn't successful, Gwen didn't give up easily - she'd provide some alternative details to look up but, very occasionally, these details were more wishful thinking than fact and could send us off in the wrong direction!
Gwen's enthusiasm for her project was clear in all her letters but none more so than when she began a letter in February 1992 with the words: "What an adventure we are having". She was also very persuasive (a trait that has been mentioned by others) - in April 1999 she wrote: "When we have finished all the Smith investigating can I have you to do some Thomas investigating?!?! You are getting very proficient!" How could one say "No", even though I had long since found that family history can take over your life, as each new discovery has the potential to raise more leads which are hard to ignore. It took her until March 2001 to accept this for herself - "One could go on and on but I think it's time I had a bit of variety in my life!", however, she said this at the same time as requesting another 10 certificates for births, marriages and deaths!
It was an amazing achievement to produce the family books and such a shame that she wasn't able to see her personal history in print.
In the latter years, we enjoyed sharing family news, musical tastes, bible verses and anything that was on our minds at the time. She had such a lovely way of writing that, when she recounted her latest adventures, I could "see" her lovely smile and the twinkle in her eyes. I shall miss her as will anyone else who had the privilege to know this very special person.